Are you a Freelancer or an Employer? It depends on how worth it is based from your role in Upwork, but here are my insights on how worth it is.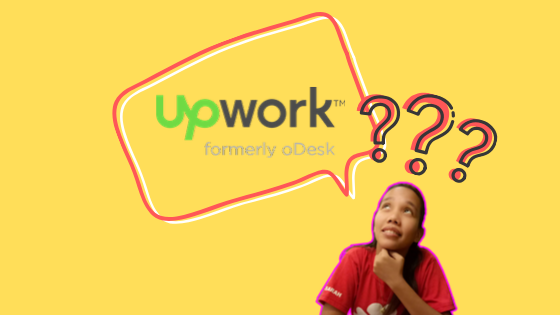 In this article, I will discuss both, so you will have a better understanding if Upwork is worth it.
I personally started in Upwork. Actually, it was oDesk back then. When I was starting to do online jobs, I had so many doubts about the platform but that is normal especially this kind of platform is very new.
But, if you look at the time today, digital work is growing so fast. Upwork being one of the best freelancing websites, says they have over 12 million registered freelancers and more than 5 million registered clients.
So, is Upwork worth it? 
My answer will be, YES! Of course! 
If you wanted to start working online, Upwork is the best to get started.
All you need is to sign up, get your profile approved and start applying for jobs.
The only disadvantage, you also got a lot of competitors. Working online now, there's really a lot of competition, anywhere you at. That's reality!
Take note of these reminders even if you are just starting out…
1. Know Your Worth
You have to know how much is your service worth. Do not price yourself too low and of course don't offer free work just to attract potential clients. Set a pricing for your services in an hourly basis. And if you will be going to work for fixed pricing, assess your client's needs before giving the price.
2. Compete with Confidence
Compete with complete confidence on what you can do. Show your potential clients that you are providing a real and better deals. Build trust and respect on each job you handle. Do not just compete with your pricing, compete with your skills and resources.
3. All The Best
In every job posted in Upwork, clients have their own criteria based on Upwork. You don't need to make it as a checklist to be able to qualify. Read the description, understand what they need and don't be afraid to start communicating by sending your application. There are times that clients don't know how much the budget should they need and often times they are categorizing it in different aspects. Most of the time all they need is someone who can do the job with exemption to the rule, and could do more than what it needs to be delivered. So always be at your best and do not restrain from applying for these jobs that you know you could be of great help.
ASENSO TIP 101:
If you are seeking for online job, I recommend this online course, VA Bootcamp. This online course is one of the digital courses that I took and helped me build my own online success. They will teach you all the needs on getting started, the skills you need to know to get your first online job, how to find and land jobs with direct foreign clients and more of these Work-From-Home strategies. As a reader of this blog, here's a 10% discount coupon – SARAHB10. [Full Disclosure: This link is an affiliate link, which means that I earn a commission if you do end up purchasing. It's at NO extra cost to you.]
I also do hiring for tasks that I could no longer do when my load is full. And I actually use Upwork to hire these people do work for me. And besides, I also wanted to know how it feels to be an employer.
So why in Upwork?
Well, as an employer, all you need is to create your account, create a job posting, make sure you have enough credits to pay your freelancer, sit back and relax while freelancers comes in to apply for the job you posted; and finally, filter it based on your need and your project is good to go.
Simple right? But that's not just that.
You also need to remember things so you would not end up hiring incompetent candidates for your next project.
Try to make these things keep in mind before creating job posts and hiring candidates:
1. The Price is Right
Low quality work results are usually priced at $2 to $5 per hour rates, there are some that  give this as a starting price to attract clients even they can do better than this price and they are just starting out. If quality work is a big deal for you, then provide a realistic budget for your project so high quality freelancers will also apply for you.
2. Detailed Project
Do not just post what you need. Discuss everything you need. Describe the project in detail including skill requirements, how long do you need the job to get done, and it's categorization. Sometimes, other clients can't categorize it accurately, and result to irrelevant proposals. Make sure you are giving accurate details and needs, so you can attract potential freelancers who can do the job.
3. Create Rules
When I was hired by my client, the number 1 thing that he likes about my proposal is that I follow the rules. What rules? When creating a job post, you have to include in your description on how you want your freelancers to respond. Either, put a specific phrase in the subject line, or replying to the job post with the first word, or call me with the name you want to be called. These are simple rules that you need for your freelancers to follow. In this way you can filter out those freelancers who cannot follow simple rules like these.
ASENSO TIP 101:
If you are hiring freelancers to do the job for you, you would also want to keep things on track. It's not bad to track them from time to time, but there's an easy way for you to manage all your freelancers and get a real time insight on what they are currently working on and how long does it take to complete their task. I use TimeDoctor for my client, and this is very helpful for both of us. Atleast, he is up to date to what is happening with my project to them. Try Time Doctor free for 30 days! [Full Disclosure: This link is an affiliate link, which means that I earn a commission if you do end up purchasing. It's at NO extra cost to you.]
Now, let's go back to our question here. Is Upwork worth it? 
Definitely, YES!
Upwork is worth it, the place where you can start working online or hiring people, the place you can find great talents and/or generous clients. As their company says, there are 12 million registered freelancers and more than 5 million registered clients. One of the best digital marketplaces.
If you want to know how I earned my first $75 in Upwork, I have shared it in my Show and Tell video, watch the episode in this link here.