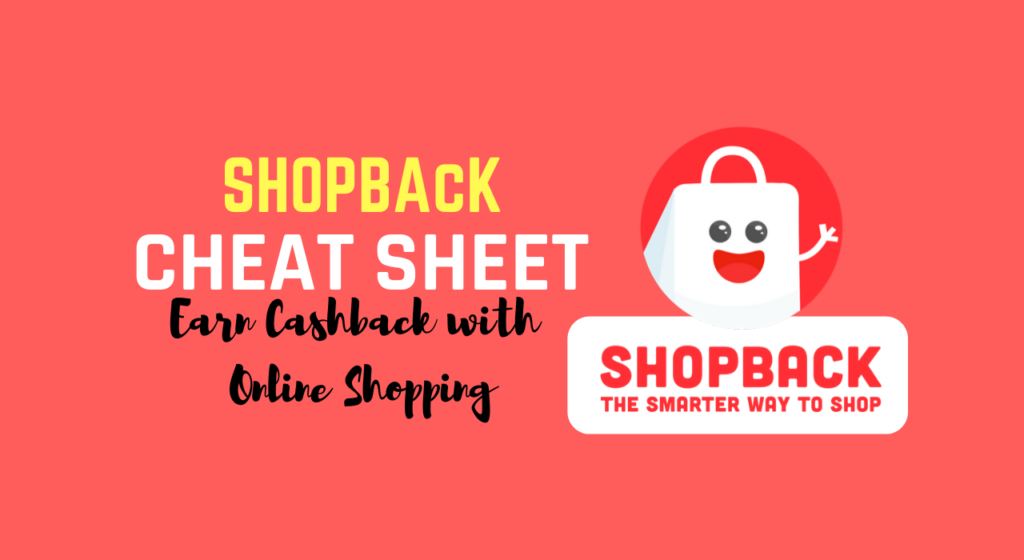 ShopBack Cheat Sheet: Earn Cashback with Online Shopping
There have been hundreds of reviews out there but if you are still new with this app and want to get more insights, then I will tell everything I know. I will also tell you some of the things that they usually don't mention, that's why this will be a cheat sheet for you to be smarter on how you use this app.
Before we get into details with this smart app, let's discuss what ShopBack is.
This is one of the common questions once you know about ShopBack. "What is ShopBack?" or "What is a ShopBack app?". And I know, there have been hundreds of reviews out there but if you are still new with this app and want to get more insights, then I will tell everything I know. I will also tell you some of the things that they usually don't mention, that's why this will be a cheat sheet for you to be smarter on how you use this app.
Here's the video that I created to answer the Top 10 Questions about this app.
ShopBack Ultimate Cheat Sheet
What is a ShopBack App?
It's a platform that gets track of your activity with accredited merchants and gives you a commission when you purchased. That is how shopback works.
This is one of the largest & fastest-growing online loyalty platforms in Asia-Pacific, with reach across Singapore, Malaysia, Philippines, Indonesia, Thailand, Taiwan, Australia and Vietnam. So it's not just in the Philippines, it is being widely used across Asia-Pacific.
Now, you might be thinking of who owns ShopBack?
The answer is, Henry Chan and Joel Leong both from Singapore are the founders of this smart app. They created this because they're idea is to give online cashbacks.
Why Use ShopBack?
Well, definitely because you can earn cash. You can withdraw that earnings into real cash.
Let's make an example so you have a better understanding of why use ShopBack.
You went to your favorite store to buy groceries, you pay for your groceries with the exact amount. Yes! Exact amount means you don't have any change. Well, that's fine. It's your groceries and you are responsible for what you buy. After paying, you went straight home with your groceries of course. It's like nothing happens, it's the usual thing you do. Buy stocks and store it.
After 3 days, someone knocks on your door and gives you a piece of check. That check came from a loyalty club where you signed up a week ago. Well, they detected that you visit one of the shops that are accredited to them and told you that you will be receiving a percentage of the amount you spend to that store.
Well, how would you feel that you earn cash while spending? It's not a discount nor a promo, it's simply giving you something in return every time you buy from that store.
It's also somehow a marketing strategy, because you will not choose any other shops that are not accredited to that loyalty program. Well, somehow the accredited merchants are well curated and most commonly used.
So if you are not yet using ShopBack, it's time to create your own account.
If you are still not sure if it will benefit you, here's all the current merchants they have. You can check if you are using any of the accredited merchants.
How to Use ShopBack?
1. Create ShopBack Account
First, you need to create your own account. You can use my link as a referral to receive a bonus. I will not automatically receive a bonus unless you become active with ShopBack. It means, you have to sign-up, buy something using your ShopBack account with a certain minimum amount and withdraw your first cashback reward, and with that I can only receive my referral bonus. But your bonus, you can automatically have it on your account
Well, it's actually a good strategy. Of course, they don't just want to have a massive sign-up and give them all a referral bonus. If you are a fan of these types of referral schemes, ShopBack is not one of them. They want their referrals to experience the app and earn their own before they say their gratitude to the person who refers them. Besides, the minimum withdrawal is Php 200.00, so if you have claimed your bonus, you just need another Php 100.00 cashback confirmation in your end to be able to withdraw your balance.
On the other hand, if you are just planning to register and just send links so you can earn too, it's not a good way to use the app. You can refer to my Affiliate Disclaimer why I don't recommend this kind of usage.
Okay, going back to what we are talking about here.
Once you created your own account, the next step is to install the tools we need.
2. Install and Activate ShopBack Extension or App
If you are using your Desktop or Laptop, install the ShopBack extension tool.
What is a ShopBack Extension tool? Glad you ask. It's a piece of software that you need to install in your Google Chrome browser so that every time you visit a website which is a merchant of ShopBack, the extension prompts you to activate it. It is like, telling you, "Hey, this website is a ShopBack merchant, activate me so I can record your purchase".
Then, if you are using your Mobile or Tablet, install the ShopBack App to your device.
Unlike with the extension tool, you need to visit the ShopBack app first on your device and browse the merchant that you are going to use. In this point, it's either the ShopBack redirects you to the website or the Mobile app of that merchant. Make sure that the Merchant's app is also installed in your device.
So once the tools have been activated, these tools track your browsing experience until you make a purchase. ShopBack will then validate your cashback in a period of time.
Again, ShopBack wants to ensure that you are really buying things. You are not just buying to earn money then return the item that you bought. Again, it's not the way it was designed. You will encounter months of validating your purchase. It means, you didn't cancel, you didn't return or didn't ask for a refund. In this case, you will not be eligible for cashback.
Why will you receive a cashback for something that you didn't use technically. Yes you purchase it, but you returned it, or it was cancelled, it means it was not in your hands or make use of it.
It's again, fair terms for each member of ShopBack. Cashrewards are only given to people who really make a purchase and has used ShopBack with it. Smart move! Right?!
3. Redeem Cashback and Withdraw Money
Lastly, once you have enough purchases and you have accumulated confirmed cashback, it's time to check if you are eligible for payout.
You have to check your withdrawal details. Make sure you add your bank account before you withdraw money from your account. 
It takes time to verify the bank account but once it's verified, you no longer need to add it again. You can now withdraw your money anytime you reach the minimum withdrawal amount which is Php 200.00.
At this point of time, I have given you everything I know about ShopBack. Hopefully you can use it in a good way like I did and become a smart spender this time.
Now you can see the list in the left side where I will give you the different ways on how to use the app on each Merchant's that I personally used.
Thank You...
Hope This Helps!
I hope you enjoyed this article and get to know more about ShopBack.
If this helped you in any way, please do me a favor to comment below, and also share this article to the world. Thank you!
Cheers and have a good day!